Model-Icons Release 1:18 Inspector Morse Car
posted in

General

- 12-12-2011, 13:55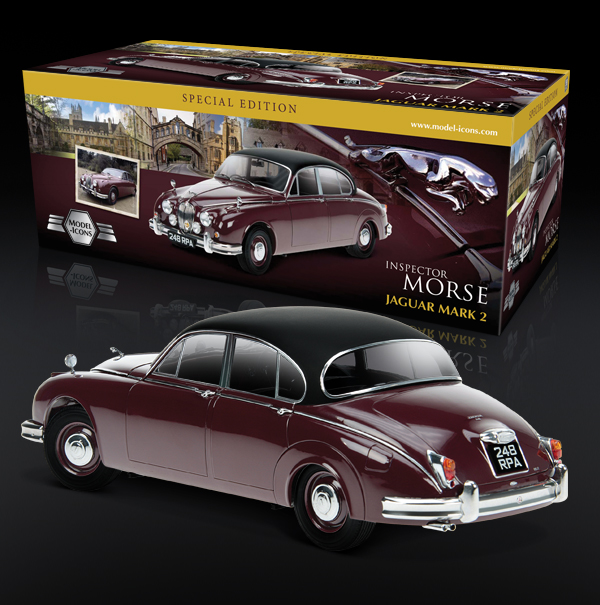 mpec design were very excited to be asked to design the packaging for the Model-Icons 1:18 Inspector Morse Jaguar Mark 2. 
The Jaguar Mark 2's status as a quintessentially British icon was cemented in 1987 when Colin Dexter's Inspector Morse novels were brought to the TV screen. Although in the original books "Morse" had a Lancia, it was decided that he should drive a "timeless British Classic" and a 1960 2.4 litre maroon Mark 2 was chosen.
The brief was to design a box that would fit alongside the existing Jaguar Mark 2 product range (also designed by mpec) yet also set it apart.
A gold band was added around the top circumference of the box to emphasise that this is a "Special Edition".
Using photography from the historic town of Oxford, where the series was based, we created an eye catching montage to immediately capture the feel of the product inside. For comparison, a photo of the real Morse Mark 2 was then added alongside a photo of the die-cast car, both of which we colour balanced to ensure they matched. The iconic Jaguar emblem was then positioned across the corner of the box, celebrating the Mark 2.
We retouched the photography of the model car using photoshop to ensure perfection. This involved tightening shut lines, removing shadows and glare and ensuring that the windows showed the packaging from behind, for a realistic effect.

Finally, the design was carried through to the other 5 sides of the box.

The packaging artwork was then signed off by ITV as meeting their approval and copyright guidelines.