Packaging for Rotorz - New brand of R/C Helicopters
posted in

General

- 04-02-2012, 10:23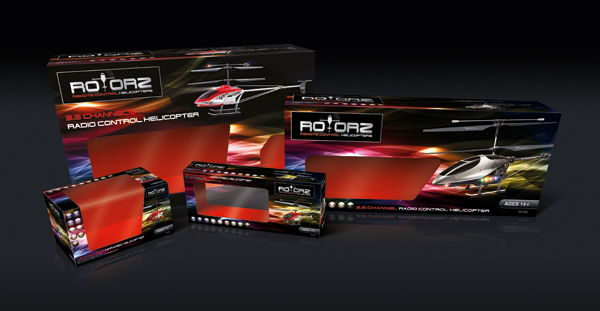 Rotorz are a new brand of radio controlled helicopters looking to break into the UK market. They approached us to design a logo and packaging for the first 4 in the range, all different sizes and styles. 

The brief for the logo was to include the helicopter "rotors", so this was used in place of the "T".

This was an exciting project, where the chosen packaging design was a strong black box with bright flashes of colour and a bold red interior. The icons reflected the colourful flashes and the theme continued on all 6 sides.

The images of the helicopters needed to be cut out, colour balanced and retouched, with shadows added and original branding removed.

This project required us to work on one theme, with matching elements across all boxes, applying amends to each box in turn as the design progressed, and keeping a strong sense of coordination for the important continuation.