Vintage and Veteran CMS Website
posted in

General

- 12-12-2011, 14:27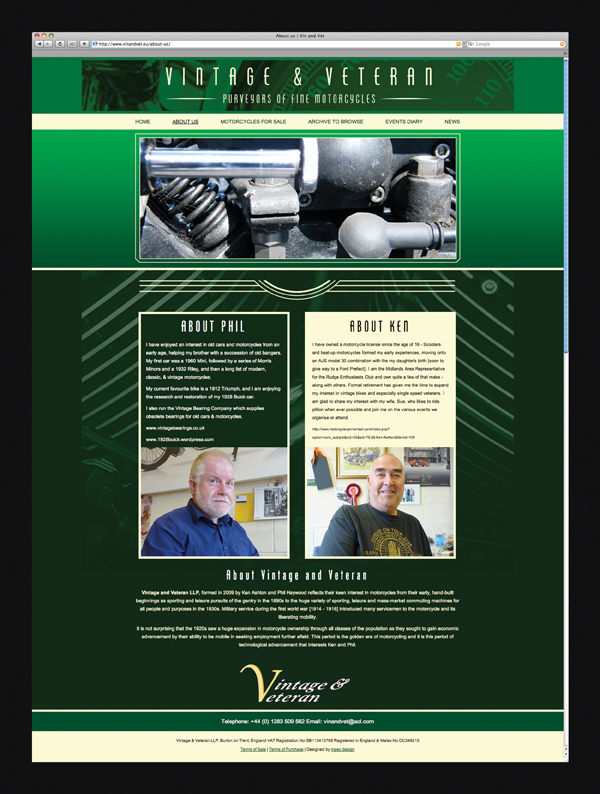 Following on from the well received DITC Village Show website, we received the commission to update the Vintage and Veteran website.
Due to the success of their products - pioneer, veteran and vintage machines for sale - Ken and Phil felt that they needed a new, modern image for visitors, as well as an easier to control database for them to manage their vast stock list.
Our CMS based website allows them to update the text and images on any of the pages to keep them fresh and current for returning visitors.
A simple click within the database allows them to upload a quantity of their photos all in one go - useful when they have up to 30 photos for each machine!
Each bike for sale has its own product page with an editable description and thumbnail images, and clicking on one of them brings up an enlarged version for better detail. Videos and product brochures can also be added to this page, as required.
The news and events pages are also easy to update, meaning that the site is very successful source for keeping customers abreast with their activities. This also means that customers regularly check back on the site which is always good for sales!
A final mention goes to the series of tick boxes within the background of the CMS database. This allows them to select which bike goes on the home page, the order that the bikes appear on the For Sale page and a simple way to move them to Archive once they have been sold.
mpec design are also pleased to be the site hosters for Vintage and Veterans 3 domains.
Please visit the site at www.vinandvet.eu